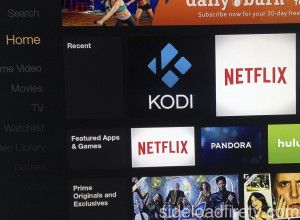 How-to Replace the Icon for any Fire TV App
This tutorial will show you how to find the file paths for any Amazon Fire TV app so you can replace the app icons.
1. Sideload ES File Explorer (follow this tutorial)
2. Launch ES File Explorer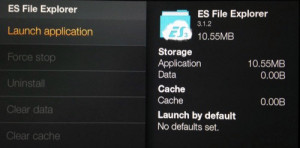 3. Go to Settings > Display settings > Enable 'Show hidden files'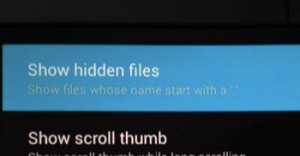 4. Go back to the main menu and go to 'Device'
5. Go to sdcard > .imagecache > com.amazon.venezia > select app (make note of this folder name starting with com…)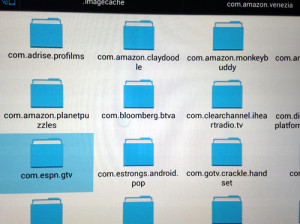 6. Open the folder that starts with B00… (make note of the folder name)

7. You should see two image files (one that starts with preview… and one with thumbnail…). You will need to rename your desired image files to this and place them on your Desktop. Make sure the thumbnail file size is 121×121 and the preview is 365×365 both in .png format.

8. You will need to replace both the preview and thumbnail files. Connect to the Fire TV and insert the following comment in Command Prompt or Terminal and hit enter:
Windows:
adb push C:\Users\YOURUSERNAME\Desktop\thumbnail_####.png /sdcard/.imagecache/com.amazon.venezia/FolderNameInStep5/FolderNameInStep6/
Insert the following command and press enter:
adb push C:\Users\YOURUSERNAME\Desktop\preview_####.png /sdcard/.imagecache/com.amazon.venezia/FolderNameInStep5/FolderNameInStep6/
Mac:
./adb push /Users/YOURUSERNAME/Desktop/thumbnail_####.png /sdcard/.imagecache/com.amazon.venezia/FolderNameInStep5/FolderNameInStep6/
Insert the following command and press enter:
./adb push /Users/YOURUSERNAME/Desktop/preview####.png /sdcard/.imagecache/com.amazon.venezia/FolderNameInStep5/FolderNameInStep6/
In my example, I would enter in:
adb push C:\Users\YOURUSERNAME\Desktop\preview_95e443a5f24fd99c06c2eb95994b1b.png /sdcard/.imagecache/com.amazon.venezia/com.espn.gtv/B00E81027Y/
adb push C:\Users\YOURUSERNAME\Desktop\tumbnail_8762f6cdf0ab5bcacf4306c1bcfa1.png /sdcard/.imagecache/com.amazon.venezia/com.espn.gtv/B00E81027Y/